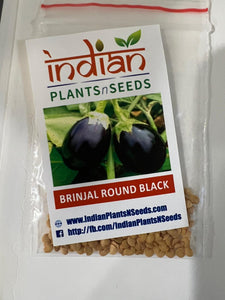 Black Small Round Brinjal / Vankay Seeds
How To Grow Brinjal Seeds | Vankaya Seeds
Pot Size :
You Can use 12*12 Inch Grow Bag or 24*12 Inch Grow Bag for planting Brinjal Seeds . If you want to grow in Plastic pot use minimum 12 Inch pot . The bigger pots/ Grow Bags will provide more space and more nutrient to the plant .

Soil Requirements:
Round Black Brinjal need moist but well-drained, nutrient-rich soil. Use soil mix with combination of Red Soil , Vermicompost and Cocopeat at a ratio of (2:1:1) . Also add 2-5% of Neem Powder to the soil mix. Neem Powder will act as fungicide.

Seed Placement :
Put 8-10 seeds in a pot with minimum spacing of 4-6 inches between each seed . Once they sprout and grow remove weak saplings . Make sure that healthy saplings will remain in the pot.

Light requirements:
Black Small round Brinjal | Vankaya Plant needs Full sunlight. Good amount of sunlight will help plant to grow healthy .

Water Requirements:
Brinjal needs to be watered daily. If the temperature is higher than 35 Degrees water it twice . Excess watering will cause in Root rot for any plant , so you need have proper drainage system in your container . Make sure that excess water will drain properly .

Common issues: Round Purple Brinjal is easy to grow plant . It will grow fast and give you good amount of fruits . The common issues you face while growing Brinjal | Vankaya are Leaf Curling and White Mealy bug . Those problems can be easily resolved using our Bio Insecticides . Use our Bio Insecticide Guardian for removing leaf curling and White flies .

Harvesting: Round Black Brinjal will be ready for harvest in 50-60 days . Well sized Brinjal will taste good . Wait till the Brinjal is ready to harvest .